Recycled Plastic Bags Turned Into Original Artwork
Go Only Electric has teamed up with a local artist who transforms recycled materials into beautiful art pieces.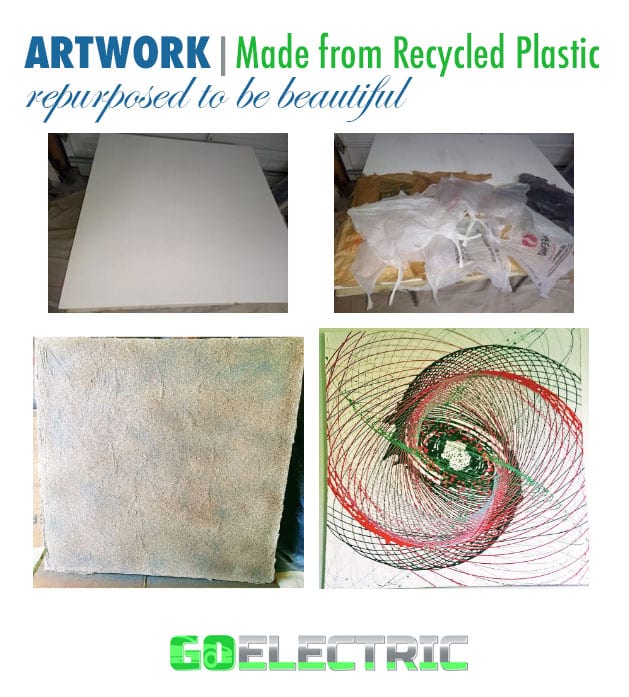 "I've been so concerned with the problem with plastic bags being in the oceans, I came up with a way to incorporate them into my art.
My handmade canvas has been covered with Gesso and then I developed my own method of creating a relief effect with plastic bags I recovered myself.
Everything was then painted to give the effect of stone.
My method of artwork keeps these plastic bags out of the landfills and out of our beautiful oceans.
I'm happy to donate this one-of-a-kind piece as an incentive gift for people gathering support in their area for Go Only Electric's EV rideshare service." —Anonymous Art Donator, California USA
---
Not everyone in the community can purchase an electric car – So Go Electric brings the electric car to the community!
Transportation by Go Electric helps COVID-19 frontline workers, essential workers, and first responders, to help transport personnel and supplies especially in underserved areas.
Help Go Only Electric gather 25 signups/signatures (by sending link to family and friends) – If 25 others reference you, we will send you a Go Electric T-Shirt + Swag Bag Gift FREE!
Gather 100 others and we will send you a one-of-kind art piece designed by local artist who uses all repurposed / recycled materials!
Small Steps Matter | Stand Up and Be Heard