Tell US Where the Need Is In Your Community
Imagine an electric car available to the people in your community. Your family, friends, neighbors, and essential workers with access to clean energy transportation. All without the hassles of ownership.
Would your community benefit from an electric vehicle? Sign up here to support clean energy transportation in your neighborhood.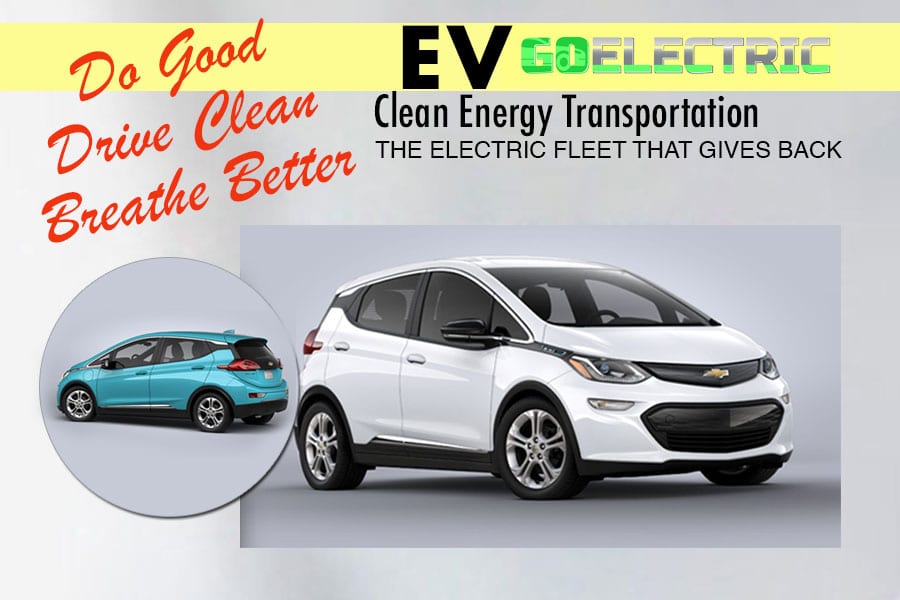 Do Good | Drive Clean | Breathe Better
Why It Matters: Our clean energy transportation solution will address multiple urgent needs by transporting people and supplies when most needed —from disaster relief First Responders or emergency services workers (firefighters, volunteers removing debris) to healthcare and other essential service workers.
The Benefits of an EV but Without the Price Tag
Plug-in electric vehicles (PEVs) are an important component of Go Electric's technology portfolio for achieving sustainability and energy security and all electric fleet for our rideshare program to support essential workers, first responders and activists for sustainable clean energy transportation.
However, the current market share for these vehicles is met with challenges.
Problem: Not everyone can afford to buy an electric car
Soution: Go Electric brings the electric vehicle to you!
Activists for clean energy transportation are called on to support Go Electric in our mission that serves as an effective strategy to advance the commercial viability of these vehicles.
Some EV enthusiasts worry about the availability of charging stations and the cost to their families, especially in the time we are living in.
Go Electric brings a simple 1-Solution to contribute to clean energy transportation. Your donations will be used to help .

CHEVY BOLT | Electric Vehicle: Leading the way in affordable electric vehicle options, the Chevy Bolt is an all-electric vehicle that offers an EPA-estimated 259 miles of range on a full charge, plus advanced safety technologies and plenty of space.
— DONATE TOWARDS OUR GOAL OF CLEAN ENERGY
What makes Go Electric's program unique:
– Go Electric is a 501c (3) Tax Exempt Charity
– Each Ride Service Is A Tax Deduction!
– We are a Disaster Relief Charity Dedicated to Providing FREE Rides to First Responders
– Recruiting Drivers with Disaster Relief Training, Prepared to Volunteer Their Time and Clean Energy Transportation During Disasters
 What makes our drivers unique:

– We recruit drivers with Disaster Relief Training

– Drivers are prepared to volunteer their time to offer free service to essential workers during disasters

 – We help support underserved segments to better serve your community

Contribute to making a difference – Thank you for your donation!